University of Wisconsin Milwaukee – Department of Dance
Type B – Negative (2011) 
As humans differ by race, gender, sexual orientation, political inclinations, religious beliefs, and many other factors, I ask the question what makes athletes, musicians and dancers so different?  Is their DNA simply different than others? How much their individual heritage transpires into their way of being and in their dancing?
I found a partial answer in my dancers' movement history. Each one of them when they move, they are the living display of their genetic heritage, enhanced by their religious, ethnic, racial, sexual preferences and political backgrounds. Their movement pallette/definition/DNA is the fingerprint of their uniqueness, therefore one of a kind.  This dance celebrates that uniqueness.
Fingerprint (Work Sample #5) (2010) 
Fingerprint evolved through a series of "movement signatures" that defined each dancer's personality. The high degree of physicality in the duets accented the strength of each dancer's individual style, while the thematic evolution of the piece relied on the dancers' interaction with each other. Each of the vignettes was designed to show the dancers' vulnerabilities and strengths, accentuated by the risks each dancer had to take to carry out his/her role.
Urrou, Urrou (Work Sample #4) (2009)
"Urrou," in Portuguese means literally to scream.  In this context it means the scream of an ox (boi), the central figure of the Brazilian folguedo (festival) called Bumba-meu-boi.  The title not only refers to the central dramatic moment of the celebration, but is also an homage to the legendary Bartolomeu dos Santos, nicknamed "O Coxinho," one of the greatest Bumba-meu-boi singers in the northeastern Brazilian state of Maranhão.  His song "Urrou, Urrou" is considered an anthem in Maranhão.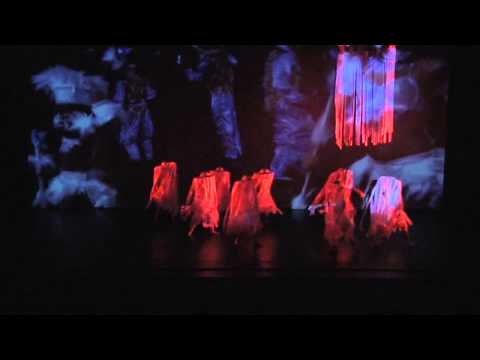 Geometry of Aloneness (Work Sample #2) (2007)
This is a multi-media work duet, danced to electronic music and soprano voice composed by internationally known composer and former UWM faculty member Yehuda Yannay.  Visual Artist Marie Mellott provides graphic and textual material, which are integral to the themes of the duet, both projected visually and presented by soprano voice. The piece was performed on a specially-constructed circular platform.  The rotating platform provided a visually distinct performance format designed to focus attention on the core theme of the piece – the ambiguity of human interaction in a relationship confined in physical and emotional space.  The two performers are trapped and liberated, separated and united.